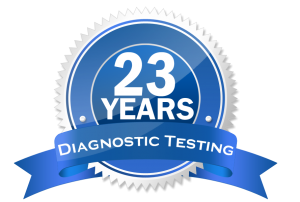 American Imaging is a leader in the Mobile Medical Diagnostic Testing industry with over 23 years of experience delivering in office diagnostic testing. We believe it is important to put our doctors and their patients first. American Imaging has provided services to various physicians over the years including General Practitioners, Chiropractors, Podiatrists, Rheumatologists, Nephrologists, Physiatrists, Neurologists, and Radiologists.
Our licensed technicians perform testing in the comfort and convenience of your office utilizing state of the art equipment for both Neurological and Ultrasound testing. We are able to test 4-8 patients per testing day depending on which tests are ordered. All tests are interpreted by board certified neurologists or radiologists and the final interpretations are sent to your office in 2-3 business days.
Set up a day of testing with no obligation to you and experience the value first-hand! Call us today at 877.397.3130.

Chiropractors
Many of our referring Chiropractors use our testing to provide them with accurate results to properly diagnose and treat each patient. Chiropractors utilize nerve conduction and ultrasound interpretations to determine whether current treatment plans are effective or if a new plan of action must be created.
Useful for patients with:
Radiating pain
Headaches
Neck & Shoulder pain
Back Pain
Carpal Tunnel Syndrome
Myelopathies
Neuropathies
Skin Disturbances
Sciatica
Sensory Loss
Muscle Weakness
Entrapments
Parasthesia
Click Here To Download Our Chiropractic Order Form
Podiatrists
Podiatrists benefit from using nerve conduction studies to determine nerve damage through peripheral nervous system, especially in diabetic patients. Nerve conduction studies assist in the diagnosis of the conditions listed below. Useful for patients with:
Diabeties
Neuropathies
Pain in Lower Limb(s)
Loss of Sensation
Tarsal Tunnel Syndrome
Foot Drop
Entrapments
Muscle Weakness
Click Here To Download Our Podiatry Order Form

Primary Care Physician
Primary care and general practitioners utilize nerve conduction and ultrasound testing to rule in/out the conditions listed below. Interpretations assist in creating a plan of action as to what treatments will help the patient recover. Useful for patients with:
Radiating pain
Headaches
Neck & Shoulder pain
Back Pain
Carpal Tunnel Syndrome
Myelopathies
Neuropathies
Skin Disturbances
Sciatica
Sensory Loss
Muscle Weakness
Entrapments
Parasthesia
Diabetic Neuropathy