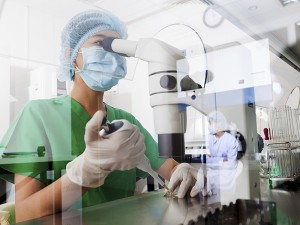 By Pauline Anderson
The nation's first state-of-the-art stem cell facility that focuses on immune-matching therapies for pediatric neurologic disorders has opened at the Children's Hospital of Orange County (CHOC), which is affiliated with the University of California, Irvine.
Initially, researchers at the new facility will study a stem cell–based therapy for the treatment of mucopolysaccharidosis (MPS-1), a rare, autosomal recessive neurodegenerative disease caused by a deficiency in the α-L-iduronidase enzyme. The disorder leads to abnormal accumulation of heparan sulfate and dermatan sulfate, which affects normal growth and homeostasis of tissue. Globally, MPS I occurs in about 1 in every 100,000 births, according to information on a dedicated Web site.
Children with MPS may have wide-ranging symptoms. These can include stiffened joints, carpal tunnel syndrome, heart valve disease, recurrent upper airway infections, lung disease, spinal cord compression, enlarged liver, and hearing loss.
According to a hospital press release, the disease typically claims patients before 10 years of age.
"Based on the results of animal trials we've conducted so far, we have a high degree of confidence that stem cell-based therapy will work to treat MPS-1," Philip Schwartz, PhD, senior scientist, CHOC Children's Research Institute, and managing director, National Human Neural Stem Cell Resource, said in the press release.
The facility will allow researchers to produce patient-specific cells for immune-matching therapies rather than immune suppression. This novel approach uses umbilical cord blood to replace a patient's immune system; the neural cells derived from this blood are implanted into the brain.
Patients with brain-related immune disorders can't be treated with a bone marrow transplant, which is the standard procedure for replacing the immune system, because transplanted cells don't cross the blood-brain barrier.
A drawback to current treatment protocols that involve implanting cells directly into the brain is that they require patients to take immunosuppressant drugs to reduce the risk for rejection. This leaves them vulnerable to a host of infections.
Could Apply to MS
The work by Dr. Schwartz and his colleagues could lead to more broad-based applications. "If our research is successful, the approach could be used to treat other immune-based diseases like multiple sclerosis," said Dr. Schwartz.
The research on the stem cell-based therapy for MPS-1 is still in the very early phases. Dr. Schwartz estimated that it will take about 5 years to establish a program before approaching the US Food and Drug Administration for approval to begin phase 1 clinical trials.
The research project is supported by a $4.27 million grant from the California Institute for Regenerative Medicine.
The state-of-the-art facility at the CHOC is one of only a handful of its kind in the nation, and the only one focused on immune-matching therapies.
Social Share